" Zippys® : The Ultimate Freshness-Keeping Solution "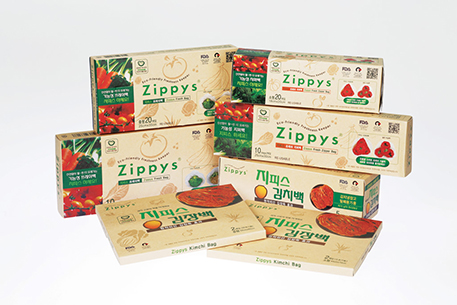 Zippys® Consumer Bags


(regular bag type / zipper bag type)

Raw material

Hangreentech's

'AR-34' + other synthetic resin
Colors
light ivory color or transparent
Features
-This bags enable consumers to extend shelf life of vegetables, crops, kimchi, and other foods.
-The storage period can be extended at least by about 50% ~ 200% according to kinds of fresh produce.
-This bag can be reused after cleaning.

Applicable foods
Fruits (grape, banana, tangerine, strawberry, melon, apple, pear, sweet persimmon etc.), vegetables (lettuce, spring onion, spinach, broccoli, celery, paprica etc.), fermented food like Kimchi, grains etc.
Zippys
®
Fresh Zipper Bag
Product Name
Size
No. of
Use
Fresh Zipper Bag (large)
250
x300mm
10 bags
/pack
For keeping fruit, vegetable, and fresh food
Fresh Zipper Bag (small)
180
x200mm
20 bags
/pack
Zippys
®
Kimchi Bag (regular bag type)
Product Name
Size
No. of
Kimchi bag (medium wide)
600
x700mm
5 bags
/pack
Kimchi bag(medium)
550
x800mm
2 bags
/pack
Kimchi bag(small)
450
x700mm
2 bags
/pack
Zippys
®
Fresh Bag (regular bag type)
Product Name
Size
No. of
Use
Fresh Bag (large)
350
x430mm
10bags
/pack
For keeping fruit, vegetable, and fresh food
Fresh Bag (medium)
250
x350mm
20bags
/pack
[Zippys® FreshBag Test Results]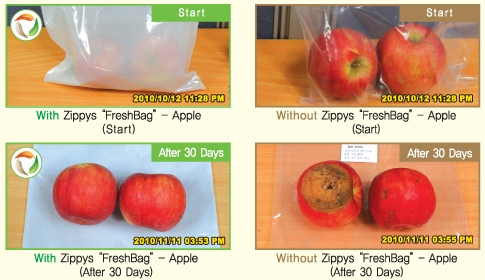 <Zippys "FreshBag" Test – Apple (30 Days)>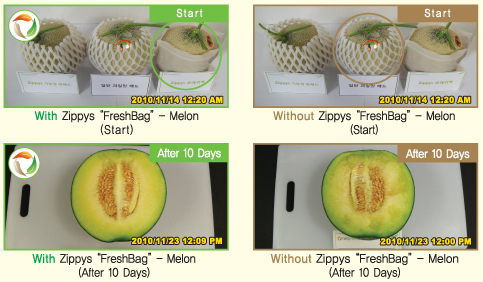 <Zippys "FreshBag" Test – Melon (10 Days)>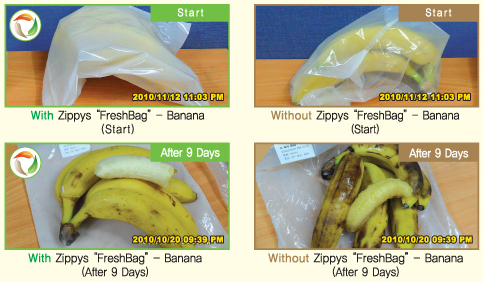 <Zippys "FreshBag" Test – Banana (9 Days)>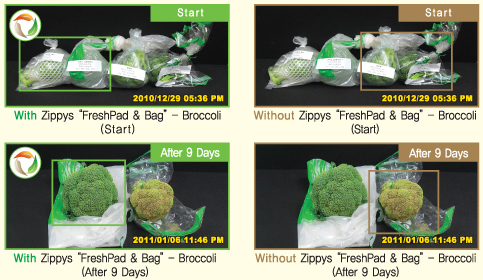 <Zippys "FreshBag" Test – Broccoli (9 Days)>